Hair extensions can transform your look in minutes, but they also require proper maintenance and care. In this guide, we will help you choose the best type of hair extensions for your hair goals, budget and lifestyle. We will also show you answer the most common questions salon owners are asked. Plus, we will share some expert tips on how to keep your extensions looking healthy and beautiful for longer. We asked Olia Cutz from THE EXTENSIONIST, a salon with branches in Battersea, Bromley and Dubai for expert advice.
How Long Do Hair Extensions Normally Last?
When it comes to how long hair extensions lasts it varies from method to method. At The Extensionist we offer many methods to suit your needs. We offer everything from temporary options such as clip-ins to more lasting methods that can last 2-4 months in the hair. However as we only work with the most premium hair the hair itself can be re-used many more times and can lasts over a year if cared for properly.
How Difficult Is It To Take Care Of Hair Extensions?
We only use the finest 100% human hair which means you can treat it just like your own. However as the hair does not get all the nutrients from your scalp there are various things we recommend in order to make them look as great as possible for longer.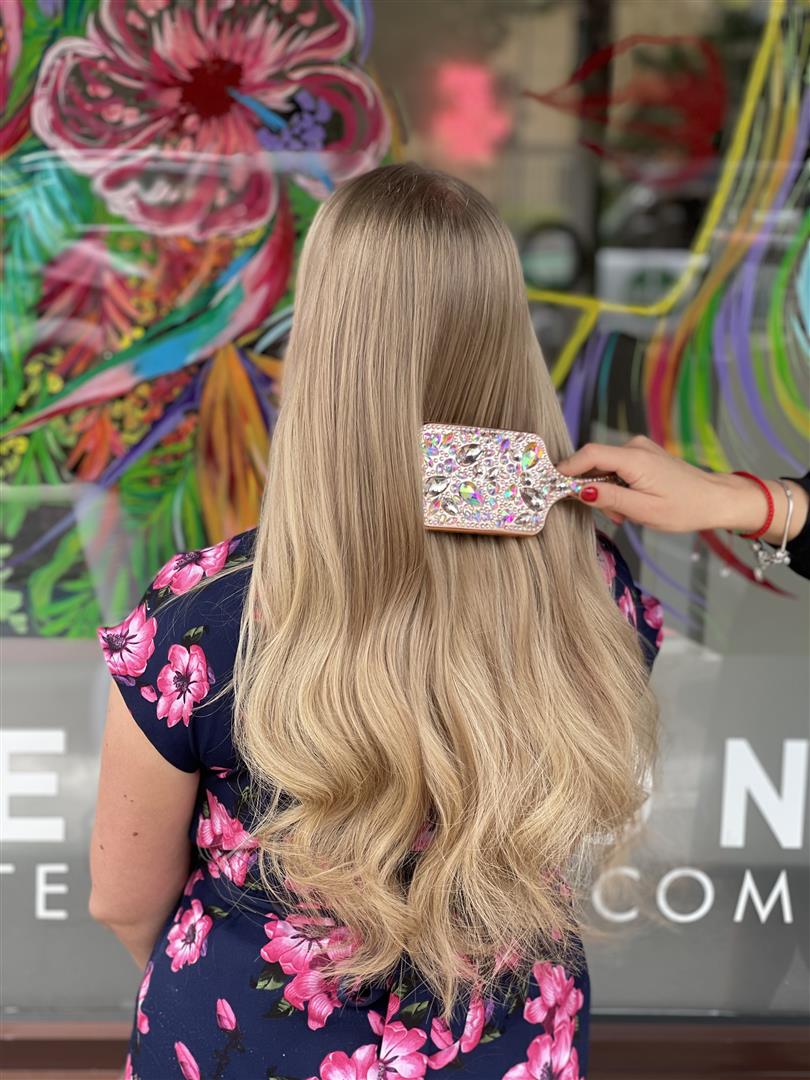 How Many Types Of Hair Extensions Are There?
There are many different types of hair extensions, but some of the most common ones are:
– Tape-in extensions: These are semi-permanent extensions that are pre-taped and applied onto your hair using tape. They are easy to install and remove, but they may damage your hair if not done properly. They can last up to 6-8 weeks with proper care.
– Clip-in extensions: These are temporary extensions that are easy to apply and remove. They clip onto your natural hair and can be styled as you wish. They are ideal for adding length, volume or color to your hair for special occasions or everyday wear. They do not damage your hair, but they may not blend well with some hair textures.
– Bonded extensions: These are also known as keratin extensions or fusion bonds. They are semi-permanent extensions that are attached to your hair using a heated tool that melts a keratin bond around your hair. They are very durable and can last up to 4-6 months with proper care. However, they can be expensive and time-consuming to install and remove, and they may cause damage or breakage to your hair.
– Halo extensions: These are also known as flip-in extensions or hidden crown extensions. They are temporary extensions that consist of a thin wire that goes around your head and a weft of hair that hangs from it. They are very easy to apply and remove, and they do not damage your hair at all. They can add length and volume to your hair instantly, but they may not be suitable for very short or thin hair.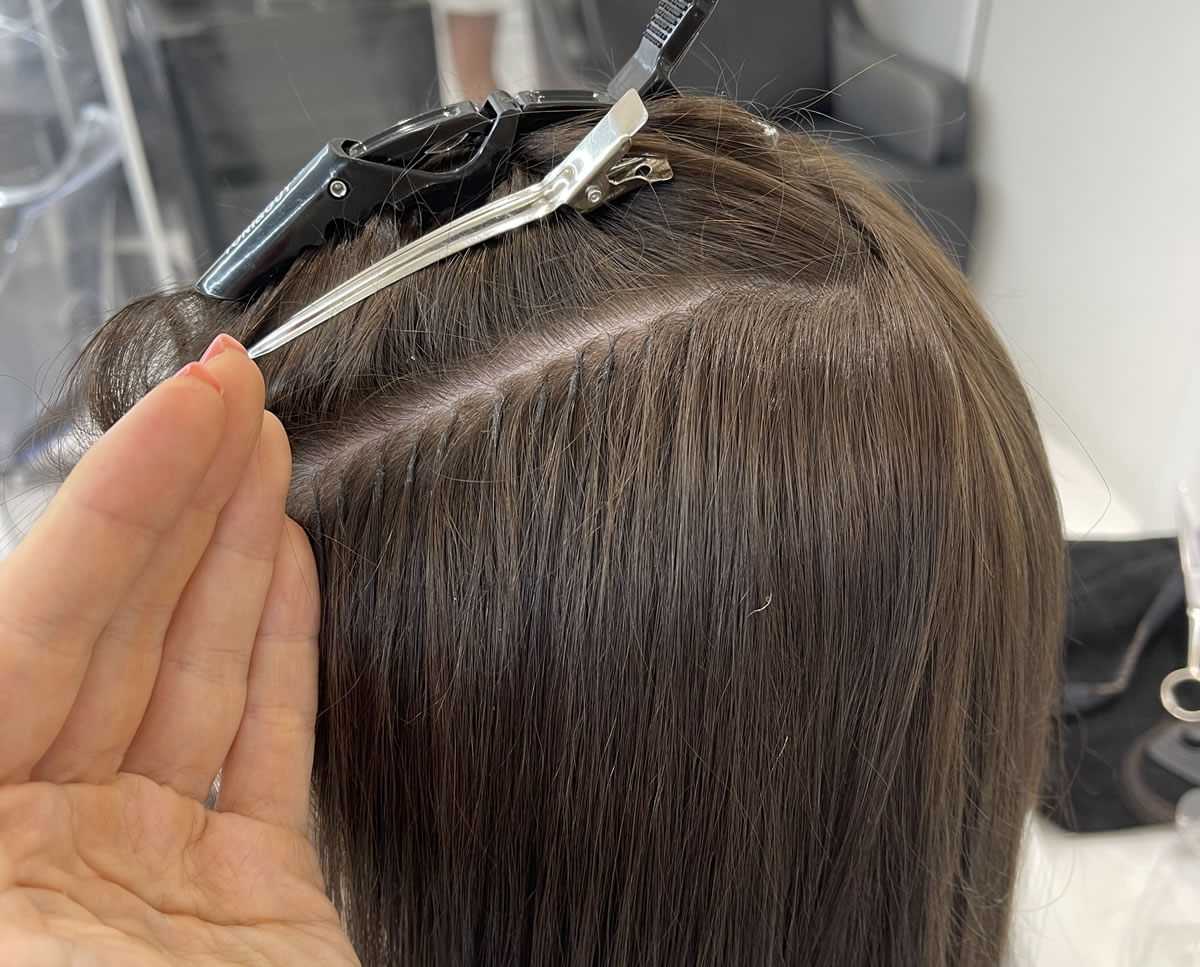 There are also other types of extensions such as weave, micro-rings, cold fusion, etc., but these are some of the most popular ones. You can choose the type of extension that suits your hair type, budget and lifestyle best. Our Guide to Hair Extensions gives more details on the most popular types.
Do You Need A Minimum Amount Of Hair To Have Hair Extensions?
We recommend that you have hair that is at least 2 inches long at the shortest bits in order for it to look as natural as possible. If your hair is shorter than this and you are still interested in hair extensions please contact your salone for a consultation.
Can People Tell If You Have Hair Extensions?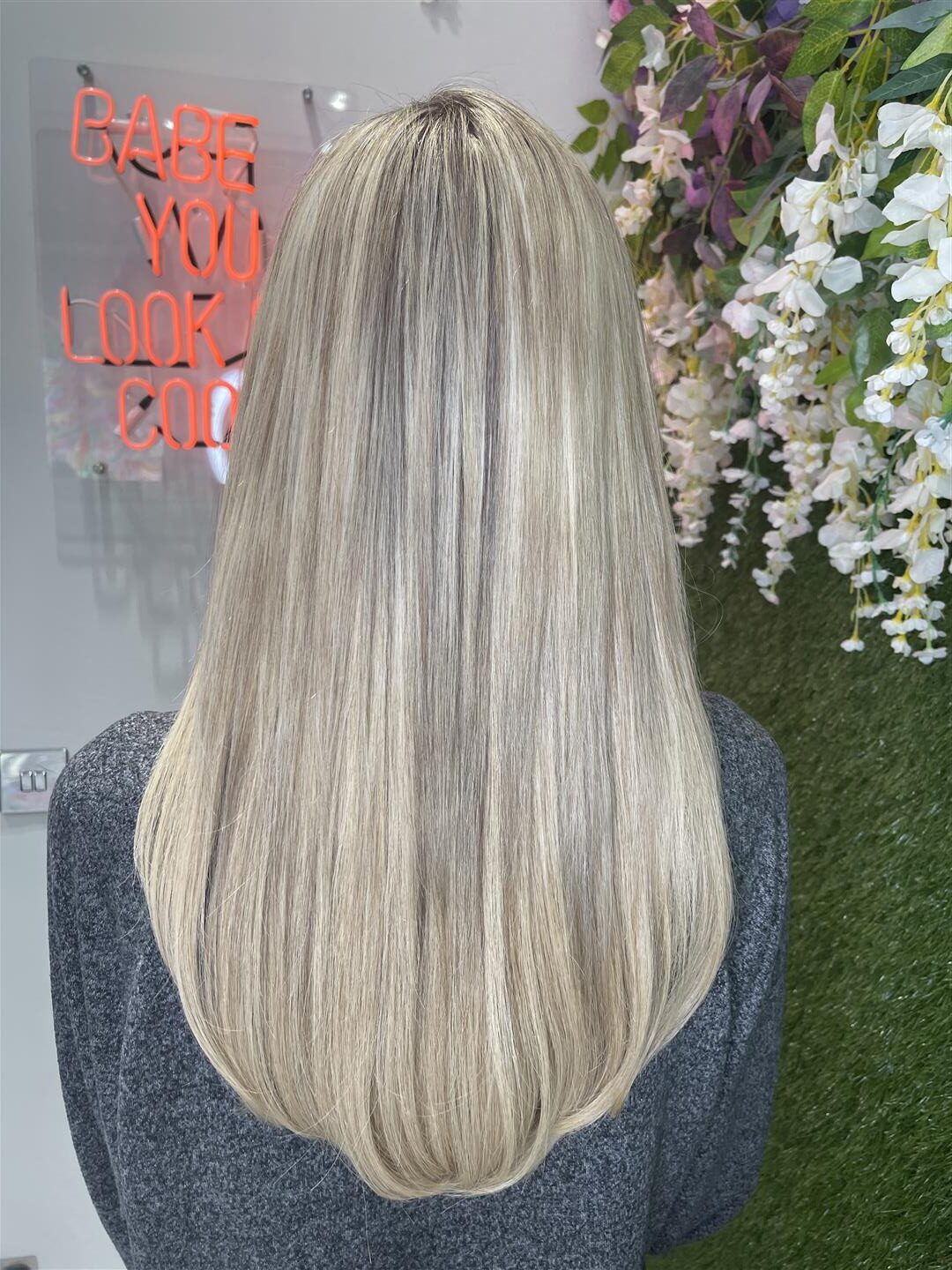 We pay close attention to make your hair extensions as discreet as possible. By leaving a periphery around your head we ensure there is enough hair to cover your extensions, even when worn up. Various methods can be more visible than other if not cared for properly. The right method for your hair ensures they are not visible.
Are Extensions Damaging?
This is a very commonly asked question. Due to sensationalism in media we are led to believe hair extensions can severely damage your natural hair. The truth is if hair extensions are applied correctly by an experienced technician it should not damage your hair at all and your natural hair will grow even longer. The damage can come from you not caring for them correctly, leaving them in too long and not following the after care guidelines.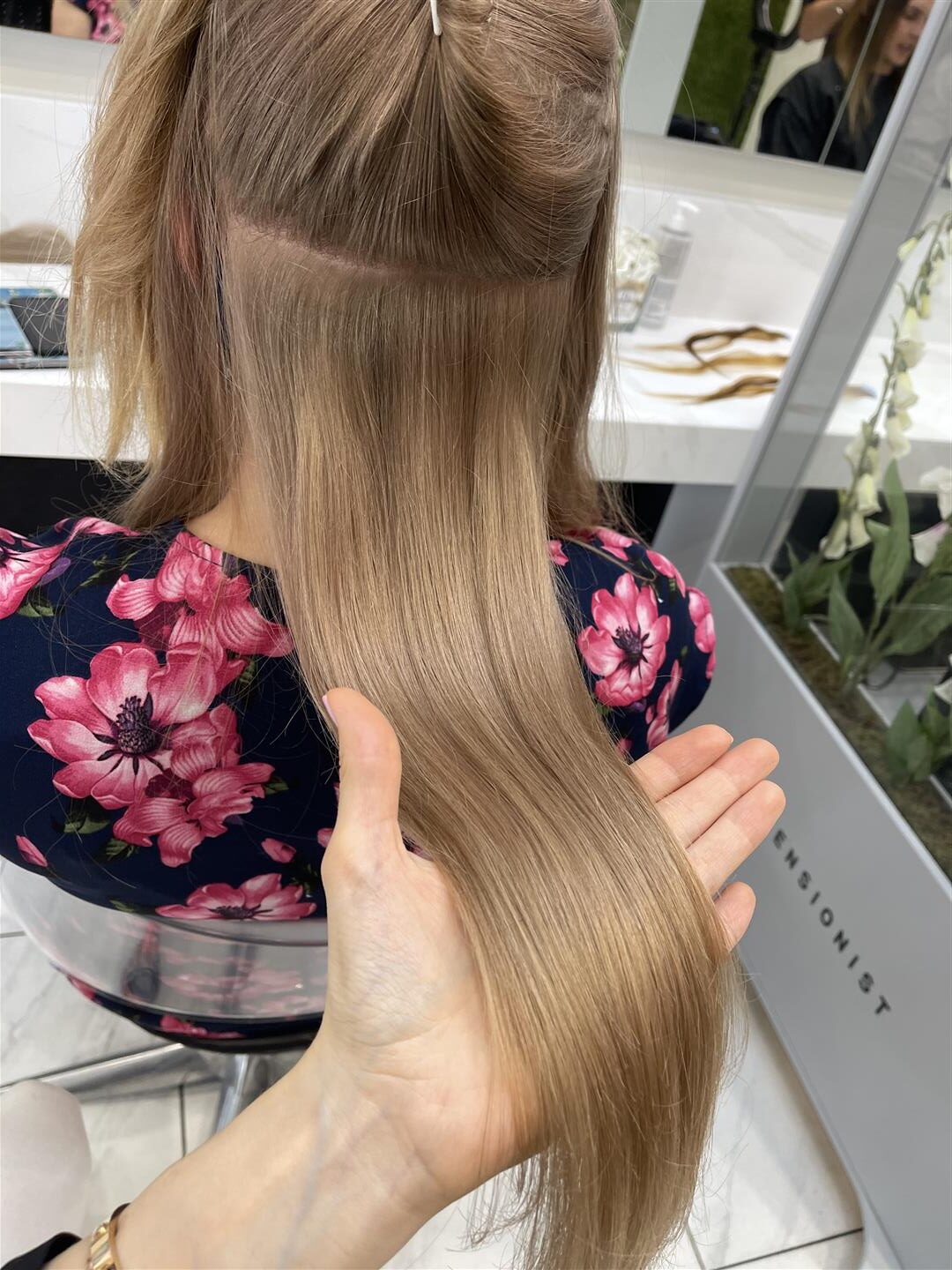 How Are Extensions Removed?
Again this depends on the method you choose. The micro-ring method simply involves clamping the ring until it opens and gently sliding down off your own hair. The fusion methods are removed by applying a solution to the bonds that gently breaks them down until they can be crushed and combed out. Tape method is removed by spraying a remover on them and gently combing the tape out. Your salon will employ trained extensionists who are experts at removal ensuring no damage will be made to your natural hair.
Should I Give My Hair A Rest In Between Hair Extension Sets?
There is no need to give your hair a rest in between hair extension sets if they are expertly applied and removed. There should be no damage to your own hair underneath as it has continued to grow underneath the extensions. Most people prefer to have their extensions removed and fitted on the same day to keep their amazing long haired look!
Why Use Hair Extensions At All?
– They can add instant length and volume to your natural hair, allowing you to achieve different hairstyles and looks²³⁵.
– They can hide split ends and make your hair look more healthy and vibrant.
– They can add color to your hair without damaging it or committing to a permanent change. You can experiment with different shades, highlights, lowlights or ombre effects.
– They can protect your natural hair from heat styling, environmental damage and chemical treatments.
– They are easy to use and remove, depending on the type of extension you choose. You can clip them in or out whenever you want, or have them professionally installed and removed.
As you can see, hair extensions are a great way to enhance your natural beauty and express your personal style. Whether you want to add length, volume, color or all of the above, there is a type of hair extension that suits your needs and preferences. Hair extensions can also help you achieve your hair goals faster and easier, while protecting your natural hair from damage. So what are you waiting for? Try hair extensions today and see the difference they can make!