Hair & Vision presents An Evening with Simon Shaw and Alan Beak sponsored by Wahl
The Fellowship presents Hair & Vision continued its Northern takeover with another action-packed evening, this time with barbering titan and Wahl Global Ambassador Simon Shaw and Wahl UK Creative Director Alan Beak, sponsored by Wahl.
Held at the prestigious Westrow Academy, it was an evening of banter, buzz words and barbering as the duo showcased the very best in barbering skills, techniques and products.
Welcomed by Fellowship President Robert Eaton, it was something different in the North, bringing barbers together for the first time within the new Centre of Excellence. Rob explained his desire for bringing events and opportunities more Northern, especially in the heart of Yorkshire. Rob then introduced the dynamic duo, Simon and Alan, who shared a little about each of their journeys within the industry alongside a run through of the evening's events.
'Tonight we want to show a sample of what we are doing and the innovation we are bringing within Wahl,' explained Simon. 'The barbering world as we know it has changed significantly over the last 5 years, and more so in the last 18 months and we have showed our commitment to the industry by developing and being ahead of the progression at every step.'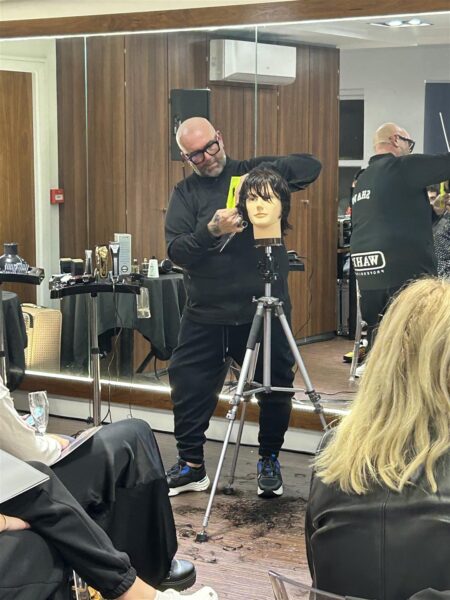 Working on his model, Alan took the audience through the skill of the 'fade' explaining the technique and showing the correct way to work around the head in order to achieve the desired look. Alan explained the importance of having his hand continually on the client for stability and to ensure the client feels secure. Alan explain the use of different tools to achieve desired depths of the fade.
Working on a mannequin head, Simon shared with the audience the research that Wahl put into education during the covid period, and in turn have found the veery best in mannequins, which allows the barber the chance to create 7 cuts on any one head. Simon shared with the audience 2 different looks, a long shag inspired look then a shorter, more texturised style, showing the versatility of the different Wahl products when partnered with a classic scissor over comb technique.
With audience participation at an all time high, Simon shared the up and coming course information, detailing the new barbering courses to be held in Leeds throughout 2024.
The evening was a welcome addition to the Northern events, with many audience members requesting more and asking a variation of questions both barbering and general industry related to both Alan and Simon.
As the evening drew to a close, President Robert Eaton thanked the evenings guests, Wahl team and Westrow for hosting another fabulous event.
The final Fellowship Hair & Vision event for 2023 will take place on Monday 13th of November in London, sponsored by Aveda. Tickets available from www.fellowshiphair.com