Salon equipment professionals Neäl & Wølf have launched their first hair tool – the HERØ Ionic Technology Hair Dryer.
This brand-new launch is an ultra-quiet lightweight hair dryer that guarantees fast drying with a 110,000 RPM motor, 220-240 voltage, and a cool shot button for smooth shiny hair. It boasts fast and powerful drying, ensuring you spend less time styling while helping to reduce heat damage.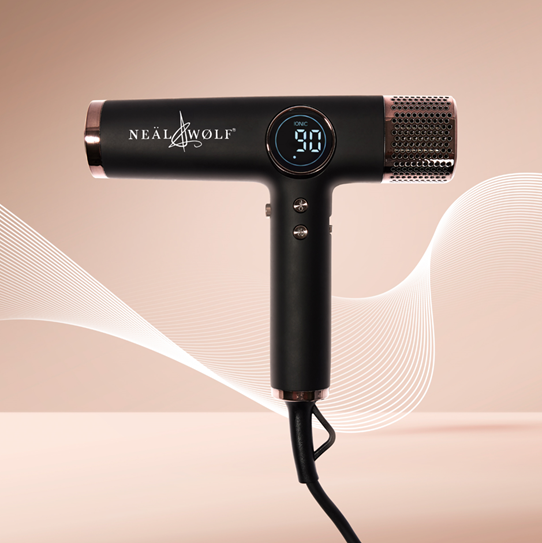 The HERØ Ionic Technology Hair Dryer is suitable for all hair types and comes with two nozzle attachments one of which is extra-large, as well as a diffuser attachment for multiple styling options. A digital display has been added to monitor the three temperature settings and Neäl & Wølf are giving away a free mini Miracle Mist with initial purchases to help with styling rapid blow dry's.
This latest innovation from Neäl & Wølf comes after a string of successful launches, with the colour specialist's iconic Colour Reboost launch earlier this year for professional use, and their Dry Shampoo which sold out shortly after it landed.
Guide: Create a Bouncy Winter Blow Dry
Neäl & Wølf's expert stylist and head of education Laura Elliot advises on how to achieve a bouncy winter blow dry using the new HERØ Ionic Technology Hair Dryer:
Use the right shampoo and conditioner duo
"A good blow dry starts in the shower, the type of shampoo and conditioner used makes all the difference, this means choosing a shampoo that's formulated to address a specific hair type. For fine, flat hair try using a volumising shampoo and be sure to only add conditioner to the ends as too much build-up on the scalp can cause hair to become greasy and heavy, making it hard to style."
Apply a styling product
"Begin with lightly towel or damp air-dried hair, spritz Neäl & Wølf's Miracle Rapid Blow-dry Mist onto hair and brush through evenly. This is key to help with smoothing flyaways, heat protection and quick drying."
Start with a rough dry
"Skip the round brush until the end and instead start by flipping your head upside down and begin by rough drying with the HERØ Ionic Technology Hair Dryer. This will lift the roots and rough up the cuticles, increasing volume."
Section the hair to create movement
"When hair is 70% dry, flip back over and blow dry sections with a round brush and the nozzle attachment. Gradually curl sections of hair around the brush and pull away and down from the scalp. The most effective way to create a blowout is to take extra time. Don't make the mistake of wrapping a big section of hair around the brush – start with smaller sections to make it more manageable and create more movement in the hair."
Neäl & Wølf's HERØ Ionic Technology Hair Dryer is available to purchase online and in selected salons