We celebrate all type of hair here at Hairdressing.co.uk, so did you know Afro hair has a special day?
15th September – World Afro Day
World Afro Day is a global day of celebration and liberation for Afro hair and identity, endorsed by the UN Office of the High Commissioner for Human rights. It's a day to embrace your natural kinky, coiled, or curly hair and to learn more about its history, culture and significance.
Afro hair is a human right, affecting hundreds of millions of people internationally. It has deep historical, cultural and spiritual roots that connect African people across thousands of miles and thousands of years. It also reflects the diversity and creativity of black and mixed-race people.

World Afro Day was founded in 2016 to raise awareness and challenge negative attitudes. It aims to normalize afros and their natural texture and to end discrimination based on hair. It also educates people about the benefits of keeping afro hair healthy, strong and beautiful.
But it's not all good news. People with Afro hair are forced to pay more, travel further and wait longer for salon appointments than other hair types – a hidden Hair Texture Tax.
Ripe Hair & Beauty Insurance surveyed a diverse range of 2,113 UK residents and found:
Afro hair types pay 43% (£68.19) more for the same hair appointment than Type 1 (Straight) hair types
Afro-textured individuals must travel twice the distance to get their hair done
A fifth of people with Afro hair have experienced discrimination in a salon vs. 4% with straight hair
It found that those with Type 4 (Afro) hair – largely considered the curl pattern of Black people – pay on average 43% more for the same service as someone with Type 1 (Straight) hair.
An appointment that includes cutting, styling, colour, and a treatment typically costs £156.94 for someone with straight hair and £225.13 for an individual with Afro hair – a difference of £68.19.
Based on an average of three hair appointments a year, this equates to a difference of £204.57 annually or £12,683.34 over the course of an adult lifetime.
Making A Difference
Vicky Agbozo owns Diversa in Newton-le-Willows, a hair salon specialising in Afro-European hair. After years of having to travel to a city to get her Afro-textured hair styled and cut, she opened her own salon in July 2023 to cater to the needs of people in the local area.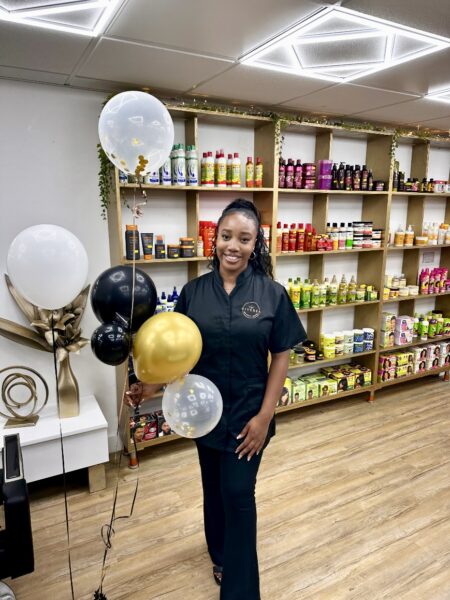 Vicky said: "Previously, I'd be so desperate for a certain product or service that I'd get three buses to Liverpool or Manchester to get hold of them. It's not right that people with my hair type have to travel so far. Even though you might see lots of hair shops and hairdressers in a town, they all offer the same thing. If that's not what you need, it just feels like you're being overlooked.
"I have Italian heritage and Diversa is Italian for difference. That's what I'm doing with my new salon; bringing difference and diversity to a multicultural town which previously only catered for one type of hair texture.
"New clients tell me they're so glad there's something different in the area. For example, we're getting a lot of Mums with mixed children because they aren't sure how to manage their texture as it's so different from their own.
"It's really important to embrace different the hair types that does exist within this community. And so great when people say: 'Finally – this is what I've been waiting for!' That's exactly the reaction we wanted."
Ripe Hair & Beauty Insurance (www.ripeinsurance.co.uk) surveyed 2,113 people of a diverse range of ethnicities and hair types in August 2023.