Rainbow Room International are known for their creativity and artistic flair and this week, they welcomed Stylists, Apprentices and Director's from across their salon group for a Day of Creativity at the Rainbow Room International Academy, situated on Howard Street in Glasgow.
The day started with an introduction from Rainbow Room International Co-Founder, Alan Stewart and Ayr Salon Director and Artistic Team Member, Riccardo Corvi, welcoming everyone to the event and discussing the success the brand has achieved this year so far including awards won and finalised for. Then, Artistic Team Members, Suzie McGill and Diana Carson took to the stage showcasing two highly skilled cuts on the stage that were also very commercial. Suzie created a precise, sleek bob cut in four sections starting from the front to the back and Suzie created a bi level cut with variations of layering, a different take on the mullet with a waterfall effect with square finish.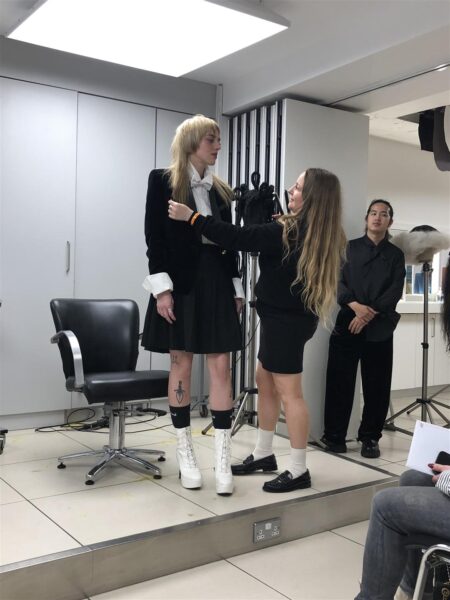 Next, Suzie and Diana discussed this year's collections – where the inspiration stemmed from and the different techniques that were used to create the look and what they wanted to achieve with the creative colour placement to allow the detailed cuts to really pop.
Diana then showcased another model with a blunt, feathered, irregular fringe and her transformational colour, where she went from a redhead to a dark blonde with 'patches' of colour through the hair for a unique, showstopping finish.
New for 2023 Artistic Team Member's Riccardo Corvi and Coco McMahon, both Rainbow Room International Director's, then took to the stage. Riccardo revealed his hair look with square colour panels through the hair and Coco demonstrated a technique to provide long hair clients with a new, cooler look with lots of texture through the top with a razor – a way to take one length cuts from boring to edgy.
Artistic Team Member, Academy Assessor and Howard Street Salon Designer, Daisy Maguire then presented a 20-minute colour technique to refresh balayage and grown out blonde. The colour was created by breaking up the money piece with foil, applying root colour over the harsh blonde and then applying chunky sections/weaves of colour, pleating away the blonde sections to keep these light and bright. The colour technique will allow clients to help clients to refresh their balayage and give it dimension with less time being spent in the salon.
The day then took a short break before Suzie showed attendees a sneak peak of the Rainbow Room International 2023 collections and a PR presentation was unveiled with the groups 2022 – 2023 highlights.
Suzie then took to the stage again showcasing a Shullet (a mix between the shag and mullet) with bi levels through the side, crested sides and a chunky, textured fringe. The style released weight from the hair in an invisible way and the results were a lifted, grungy look with raw texture with a tones of technique and skill involved.
Suzie, Diana and new Art Team Member, Archie Lam, discussed Rainbow Room International wig work and how they have started to use wigs in their shows and collections. One wig was created using pins and stitching techniques to add to and enhance the finished look that featured lots of texture, box braids and knots for a more natural finish.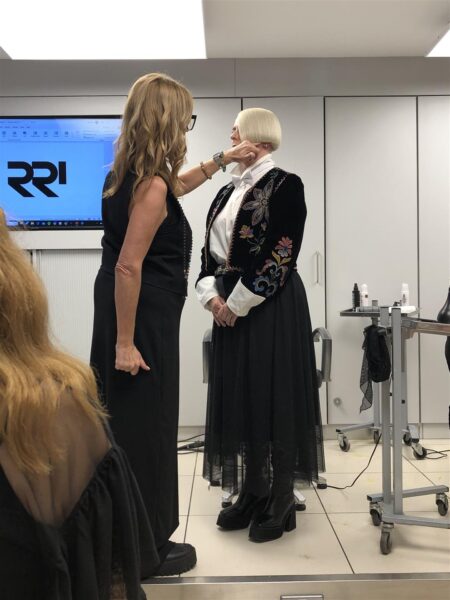 The day finished with Young Art Team Tutorials, which encompassed Assistants and Stylists from across the salons who had created their own creative hair looks on models.
Lily Lamb, Great Western Road Stylist, created a colourful buzz cut look, whilst Natasha Brand, Level 3 Trainee at Ayr created a root smudge and seamless balayage created using cling film to prevent drying, Rachael MacDonald, Salon Director at Ayr, created a beautiful colour spill of greens and super textured, square layer look and Alana Robertson, Level 3 Trainee at Howard Street showcased a beautiful copper peach colour with concave layer and texture.
Jamie Lee Murphy, Level 3 Trainee at Howard Street, displayed a messy space bun look with hidden pastel colours underneath and Fabrizio Delvecchio, Level 2 Trainee at Howard Street, showcased a Kurt Cobain style 90s grunge look created with razors and a chunky weave, dirty balayage. Becky Jack, Stylist at Great Western Road, then showed off her traditional mullet style cut with fading at the sides using a razoring technique and Archie Lab, Stylist at the Uddingston salon and Art Team Member finished the day by showcasing a shag, square layer haircut with softness, a Jellyfish inspired haircut with lighter colour created underneath that took inspiration from his Asian heritage.