The Hair Extension Group, a leading name in the hair and beauty industry, is excited to announce its transformation through a comprehensive rebrand. This revamp also showcases a sleeker, better user experience for its customers while maintaining a strong emphasis on quality and customer satisfaction.
Over the past few months, The Hair Extension Group has been hard at work, subtly integrating a new logo, an updated colour scheme, and significant enhancements to its website. The company has transitioned from its signature pinks and golds to a sophisticated palette of soft nude hues, including shades of brown and beige, offering a contemporary and luxurious new look to the brand.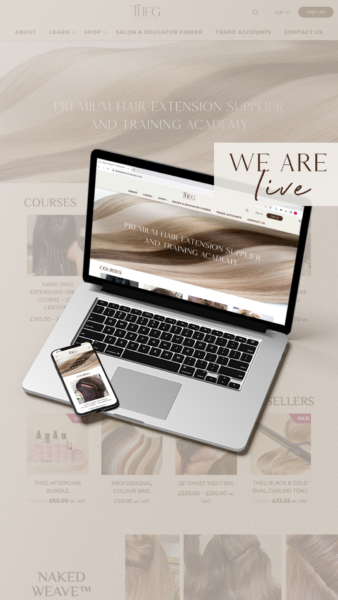 Ellis Jackson, Director of The Hair Extension Group said: "I am so pleased with the brand's new look and feel. Our rebrand represents a significant leap forward for The Hair Extension Group, bringing a sophisticated and modern edge. We're excited about the possibilities this opens for us as we continue to develop and put our customers at the heart of everything we do."
In collaboration with Trinity Create, a Cheshire-based Marketing Agency, The Hair Extension Group has initiated this rebranding journey to not only modernise its image but also to improve its offerings to its valued customers.
Ellis commented on the new website: "The changes to the website provide customers with a seamless and user-friendly experience when browsing and shopping for hair extensions and haircare products. It's also now easier for customers to access our innovative training courses, exclusive promotions, and a convenient salon and educator finder."
Hair Professionals have the opportunity to register for a trade account, where they benefit from exclusive discounts and opportunity to earn rewards on purchases with a tiered system.
In other great news, The Hair Extension Group has been shortlisted in the prestigious Education Excellence category at the Hair and Beauty Awards 2024. This recognition is a testament to their exceptional training and aftercare, including the innovative Naked Weave method.
For more information on The Hair Extension Group and to explore their updated offerings, please visit their website https://www.thehairextensiongroup.co.uk/