A hair mask is like a face mask, except for your hair. It's like an intense conditioner to soak and cover your hair with the big help it needs to get better and stronger — whether it's dry, heat-damaged, chemically-colored, curly or even simply aging.
Adele Clarke, pictured above, OSMO Ambassador and Owner of Spectrum Hair Company in St Helens, shares her expertise on why Hair Masks should be an essential part of your clients at-home care routine…
"Hair masks can be used to improve the texture, shine, and manageability of your client's hair. The product is an important part of any haircare routine, and they can be used on all hair types. Through a hair consultation, you can make your hair mask sale by focusing on caring about your client and fulfilling their needs. By recommending the right product for them and educating your client on how to use and how often to use their hair mask (I like to recommend, every third wash) the condition of their hair will improve, which goes a long way in client satisfaction and ultimately retention".

"Consider the hair type of your client before recommending a particular product. Fine hair types are best suited to masks with a light-weight formula such as OSMO Blinding Shine Illuminating Mask and those with curly hair, should use a mask that will hydrate and redefine the texture of their hair such as OSMO X.POSED Treatment Mask. Recommend to those clients with dry hair, a more moisturising product such as best seller OSMO Intensive Deep Repair Mask."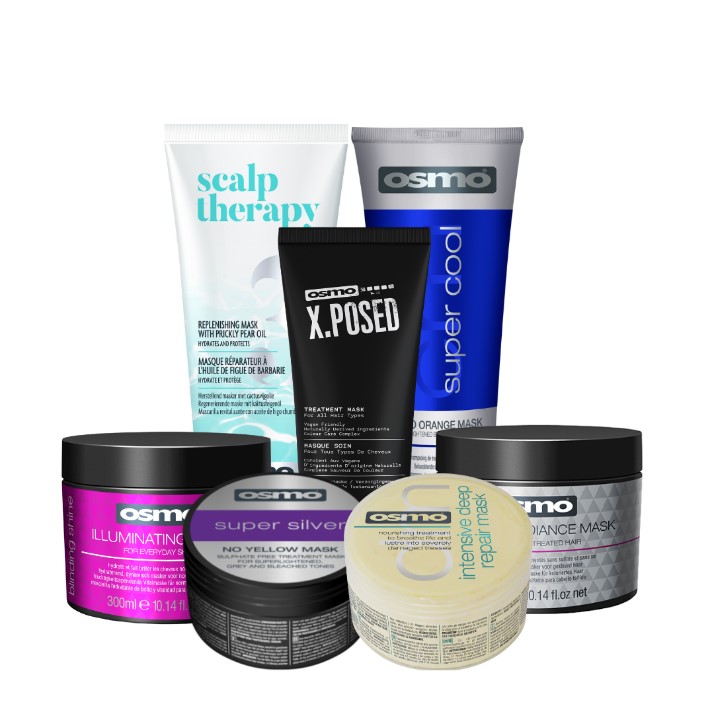 OSMO HAIR MASK COLLECTION:
OSMO Scalp Therapy Replenishing Mask – 200ml £14.20
Perfect for very dry and damaged hair, the vegan friendly and colourant free, restores and revitalises hair from root to tip. Enriched with Prickly Pear Seed Oil, a natural remedy rich in antioxidants and regenerative properties, it absorbs quickly into the hair for a deep, long-lasting action from root to tip and repairs the hair from within.
OSMO Super Cool Zero Orange Mask 250ml – £10.55
Allow your clients to stay true to their hue with the NEW OSMO® Super Cool Zero Orange Mask . This super blue treatment mask helps reduce unwanted brassy, reddish, and copper reflections and provides intense moisture to salon lightened, brunette dark hair tones. A multi-tasking, weekly treatment, OSMO Super Cool Zero Orange Mask champions all those salon-coloured brunettes by locking in the colour, preventing fade, and maintaining the hair's condition and shine.
OSMO Super Silver No Yellow Mask –250ml £10.55
An intensely hydrating, sulphate free treatment mask infused with super violet pigments to replenish lost moisture and neutralise any yellow tones. Leaves blonde, grey and bleached hair feeling nourished, healthy and more radiant. Use in collaboration with OSMO® No Yellow Shampoo for optimum results. Completely cruelty-free.
2wOSMO X.POSED Treatment Mask – 250ml £11.20
A deeply conditioning 95% natural hair mask that restores essential hydration and enhances hair's resilience to protect it against future damage. Formulated with extracts of Basil, Thyme, and Mandarin, this revitalising treatment leaves hair feeling silky, smooth, and healthy-looking.
OSMO Intensive Deep Repair Mask –250ml £6.40
Range bestseller restores moisture, reconstructs, and cares for damaged locks. Promotes healthy, shiny, manageable results.
OSMO Blinding Shine Illuminating Mask – 300ml £10.20
Intensive conditioner for super smooth shiny frizz-free results. Leaves locks galvanised, gorgeous, and gleaming.
OSMO Colour Save Radiance Mask – 300ml £9.60
A deeply nourishing, sulphate-free mask for use on colour-treated hair. Specially formulated with Osmo's Anti-Fade System, it contains UV filters to combat sunlight and thermal styling damage, extending the life of colour vibrancy. Vitamin E strengthens the hair cuticle whilst Rose Absolute and Linseed Oil Extracts promote radiant shine, leaving the hair silky, smooth and manageable. Completely cruelty-free & vegan-friendly.
To request OSMO® for your salon, contact your local wholesalers or visit www.osmo.uk.com for all stockist details.