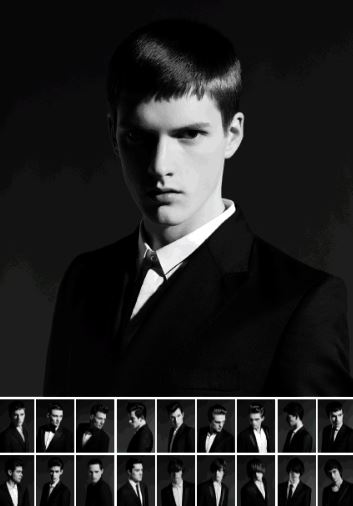 We were excited to receive news from Sassoon Academy this week of the release of a new DVD series on cutting men's hair the Sassoon way.
The abc MEN DVD series demonstrates the classic barbering techniques of scissor over comb and clipper work, together with layering, graduation and lines, in easy-to-follow phases. Essential variations show how these fundamental techniques, which underpin every signature look of Sassoon creativity, combine to produce a complete range of contemporary shapes.
Series A in abc MEN focuses on shorter, layered hair with natural outlines as well as scissor over comb and clipper work. Series B shows how to combine layers with graduation in order to control texture, proportion and head shape. The final segment, Series C, concentrates on longer shapes with shorter internal lengths in combination with different shapes of outlines. When perfected, the abc MEN method provides the platform to create a comprehensive repertoire of looks, perfectly suited for today's salon environment.
"The philosophy behind the techniques in the new abc MEN DVD series is the culmination of more than fifty years of Sassoon expertise and lies at the heart of the Sassoon ethos 'form follows function,' says Mark Hayes, International Creative Director. "As men's hair becomes ever more sophisticated, mastering these classic techniques in their purest form creates the skills necessary to understand the dynamics of hair, enabling stylists to develop their own individual cutting style and opening up an infinite number of cutting possibilities."
abc MEN | Cutting Hair the Sassoon Way is the third element of the abc DVD series that includes: abc | Cutting Hair the Sassoon Way (ladies) and abc | Colouring Hair the Sassoon Way. Together this series forms the complete classic training system from one of the industry's most established educators.
We particularly liked how once the basic technique was shown, the DVD went on to describe variations so that each individual stylist can create their own looks based on these.
DVDs are availble from at www.sassoon.com/academy
Buy the book Cutting Hair the Vidal Sassoon Way