During summer, clients are looking for the very best hair products to care for their damaged strands that are lacking lustre, and that's where ALTERNA's summer holiday hair heroes come in.
The Replenishing Moisture family within the Caviar Anti-Aging range is a range for all hair types and is perfect for the summer months where hair can quickly become dry, dull and damaged from the effects of the sun, salt water and chlorine. The Replenishing Moisture range works to keep hair moisturised, whilst looking smooth, soft and shiny.
For clients heading on holiday, the minis with the range are a fantastic choice, as well as the Moisture Ceramide Capsules that are easy to transport. All products work in harmony to help protect hair from colour fade, dryness and damage and instead, keep hair always looking flawless.
Alongside the exclusive Caviar ingredient, which is rich in Omega fatty acids, vitamins and minerals to help defend and protect against physical, chemical and natural aging factors that cause hair to look and feel older, products within the Replenishing Moisture range also contain the replenishing ingredient Seasilk, which further helps to seal in moisture and make hair instantly look and feel healthier and more manageable.
Technology within the products includes Age-Control Complex, a blend of Caviar Extract and Antioxidants that refuse hair with vital nutrients that are loss in the aging process, to improve vibrancy, elasticity and manageability and Enzymetherapy, a targeted delivery of enzymes and minerals that optimize penetration of ingredients to improve absorption of vital nutrients and support keratin production for stronger hair.
Introducing the summer holiday hair heroes…
ALTERNA Caviar Anti-Aging Replenishing Moisture Shampoo – the luxurious cleanser restores and hydrated dry hair and is perfect for all hair types. Its key benefits include replenishing and sealing in moisture, adding softness and shine and improving the overall look of the hair.
ALTERNA Caviar Anti-Aging Replenishing Moisture Conditioner – the lipid rich conditioner conditions and strengthens dry hair, replenishes and seals in moisture and reduces breakage by more than 99%* vs untreated hair.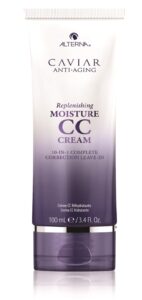 ALTERNA Caviar Anti-Aging Replenishing Moisture CC Cream – an incredible leave-in product that delivers 10 benefits in one easy step, the product provides moisture, shine, smoothness, softness, anti-breakage, heat protection, light hold, UV color protection, manageability, and strength—everything the hair needs to look absolutely beautiful, healthy, and flawless.
Top tip – inform clients to take their Replenishing Moisture CC Cream in their beach bag and apply on to the hair after swimming in the pool/sea. The product will work to provide hair with UV protection whilst also keeping it moisturised to avoid colour fade and dryness.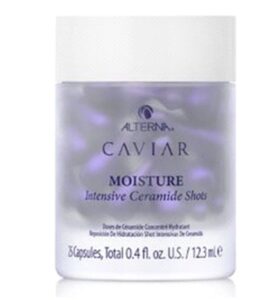 ALTERNA Caviar Anti-Aging Replenishing Moisture Intense Ceramide Shots – single-dose biodegradable serum capsules delivering luxuriously healthy, hydrated hair. The potent serum-in-capsule delivery system provides a wherever and whenever flexibility to achieve hair that is stronger, softer and easier to manage at home or on the go. They can be used on damp hair or dry hair as a multi-benefit leave-in treatment and contain several benefits including providing moisture and hydration, boosting strength, condition and overall health of hair, repairing damage, Controlling and reducing frizz, providing thermal damage up to 232°C, adding shine and improving smoothness.
Top tip – advise clients to always carry a capsule or two in their bag for when their hair needs an extra dose of hydration or to help calm down any frizz and flyaways from humidity during the summer months.