With restrictions being lifted, so many clients are being a lot more creative with their hair and opting for more vibrant and statement looks says Suzie Mcgill, owner of Rainbow Room International's Uddingston Salon, Schwarzkopf Uk Ambassador and International Artistic Director at Rainbow Room International.  Going for a bold hair colour all over can be daunting for some, therefore, the new Peekaboo hair colour trend is perfect for those who want to add a pop of colour without making the commitment of going for a bold hue all over. With this hair colour trend clients can opt for one solid colour, be it purple, pink, green or blue, or incorporate all colours for a rainbow effect if they're feeling daring enough.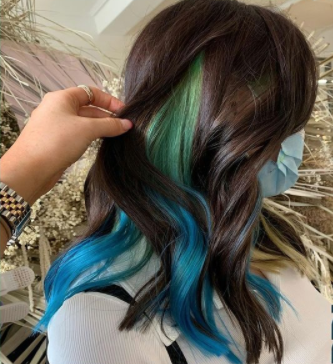 The peekaboo hair colour trend is where bright, bold hair colour is panelled on a section of the hair and can be hidden underneath the clients natural hair colour. This creates a great contrast and looks particularly great when the colour is applied in recession areas, as well as underneath the hair.
When the clients hair is worn up they can showcase the colour and have a real head turning hair look. Contrasting, if they have an interview or day in the office where they may not want to show off their new bold locks, they can wear their hair down to disguise the look.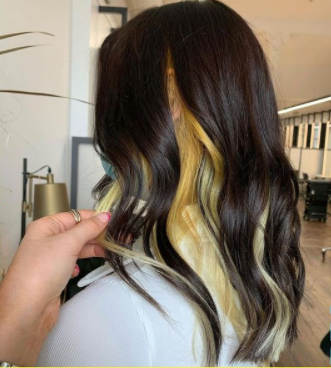 For clients who want to wear their hair down and show glimpses of the colour, a hairstyle with movement is best. Tousled waves and a textured hair finish will allow glimpses of their colour to peek out behind their natural colour for a mesmerising hair look.
As with any bold, colourful hair look, keeping the section of hair vibrant in appearance is key. It's important to recommend to clients using hair products at home between appointment that will keep the colour looking its best and avoid it from fading. Colour savings shampoos and conditioners are a great choice, as well as hair masks that will keep colour sealed in. Hair oils and serums are also beneficial to keep the hair nourished and colour looking bright.