For German Hairdressing Award winner Daniele Dragotta, the future of hairstyling is already today.
With a view to past and current fashion trends, he turned the medium of hair into something ex-traordinary for his GHD Collection 2019 "Modern Punk", something that has never been seen before. A work of art that reveals its stylish vision of the future.
The looks, which are inspired not only by the catwalks but also by fashion events of London, are dynamic and original. An unbelievable collection of daring cuts and vivid colors as an expression of the individual creativity of Daniele Dragotta, who he lives with extreme sophistication and his love to detailed work!
The cool mix of the collection is urban, non-compliant and high-tech at the same time, and it refl ects the artist's unique talent and his outstanding technical know-how.
A step forward, achieved through the creation of priorities inside the shapes and peculiarities that show a high degree of individualization. As far as color is concerned, there are parallels to the birthplace of punk and its secret spots and bars as well as "underdog paintings" that sometimes hide, sometimes adorn London's streets and make clear statements.
The message: art is just as relative as time – so it is not only in the eye of the beholder, but also knows no stoppage! The strong, lively and sometimes unu-sual colors such as Pink Elephant or Cobalt emphasize the mainly asymmetrical cuts, which become the Eycatcher thanks to different lengths and micro pony.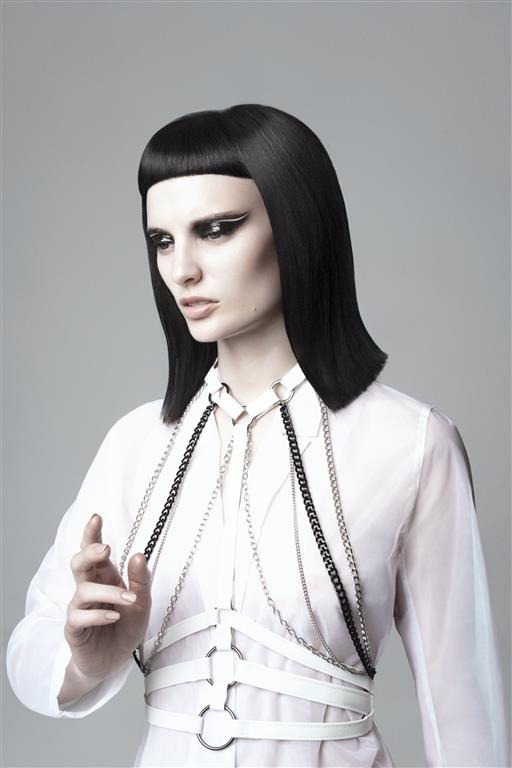 A kind of anti-formistic trend in which individuality and high fashion merge into something completely new. The resulting looks are just as breathtaking as they are diverse and presented as a whole, a perfect harmonious balance that gives an preview on what fashion will hold in the future!
Hair: Daniele Dragotta
Make-up: Janine Bohn
Fashion: Doreen Kipping
Foto: Sascha Heubold ( Heks )