We caught up with members of the Fellowship for British Hairdressings to find out what's hot in men's style this summer.
Kyle Dodson, Fellowship Project Men Team
This summer the mullet and buzz cuts are making a major comeback, with some mullets being more adventurous than others.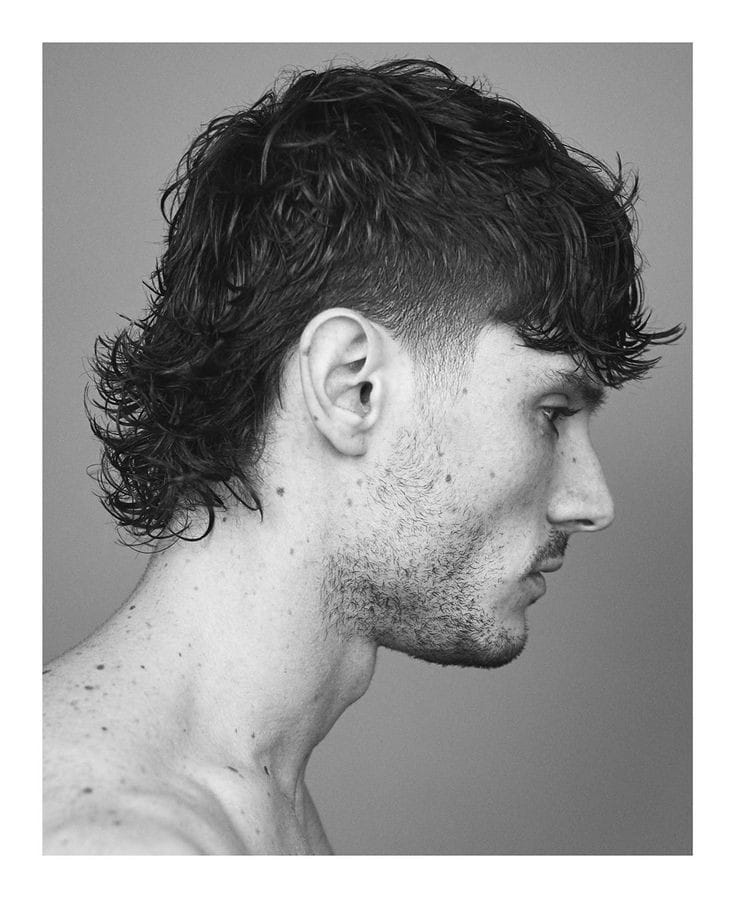 I do love a good mullet and I always say the bigger the better! But for those looking to try a mullet for the first time, they don't need to opt for something so drastic, a short, cropped fringe with a skin fade on the sides and a big, disconnected mullet at the back looks great. Clients can try a more subtle mullet with a nice short grade 1 or 2 on the sides graduating longer to the back.
I like to see nice internal layers for movement in the hair getting longer to the external. For those looking for a lot of texture, the mullet can be cut with a razor. This with shatter the ends giving it a more lived in textured look.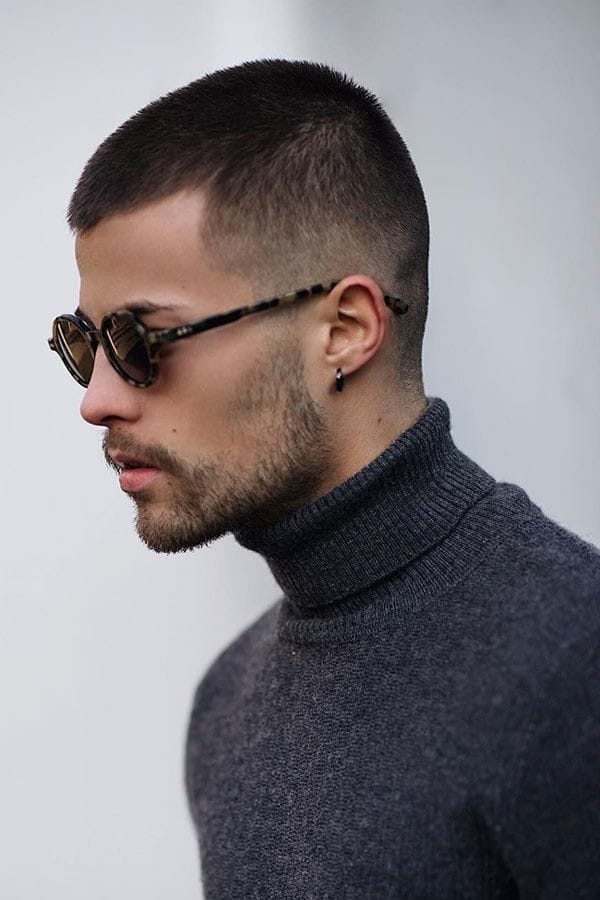 Buzz cuts have always been around, but I think this summer they are the ideal cut to have, as they are such a low maintenance and easy to manage haircut. Clients can wake up in the morning without having to worry about a bad hair day! Because every day will be a good hair day with the buzz cut. I also see lads getting a buzz on top with a skin fade on the sides and a line up but personally, I like more of a grown out messy buzz with the lowest being a number 1 on the side. If a client is interested in a buzz cut, always have a chat with them beforehand and ensure the cut will suit them. For a buzz cut to look good, hair line and the head shape need to be considered (it's not a look for everyone).
I also would like to see alot more mid length hair this summer – finger length and longer on the sides to tuck behind the ear if needed with a little bit of a wet look. To achieve the wet finish, I would use a soft gel or pomade and I would apply this into damp or wet hair. It's important not to overdo it on the products when creating this look, as you don't want the style to be confused with greasy/oily looking hair.
Elettra Guggeri, Fellowship Project Men Team
From my salon experience with clients, I've noticed that what most men want from their haircut is manageability yet definition. No matter what length or texture, they want to be able to recreate it effortlessly.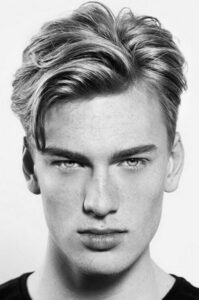 This season trends :
The lived in – this season more than ever men are going for longer hairstyles and embracing natural textures. No need for time-consuming blow dries. Tips for styling: mist some sea salt spray on the hair to encourage definition and let air dry/diffuse. You can also combine a light moisturising curling cream to tame the frizz.
The crop – whether it's a French crop, Caesar or disconnected this haircut is here to stay! Its strong features are easy styling and strong fringe line, which makes it very distinctive. Style with texturising powder+ wax.
The tapered cut – tapered cuts and skin fades are amongst the most popular haircuts due to their sharpness and easy manageability. Style the top with some powder for texture and hold or slick back with wax for a smarter look.
Modern mullet – this is a cut we have seen a lot of in the past couple of years. This season we'll see a variety of shorter length and more subtle mullets, almost a fusion with the skater boy cut but with tapered sides .
The dyed buzz cut – the simple and extremely low maintenance buzz cut will still be around this upcoming season paired with some bright tones for more of a statement look.
The 90s cut – middle parting and longer top. This is a softer look for those who want to be able to play with their hair but still enjoy the benefit of a tidier, shorter length on the sides and nape.
Styling tips for the summer:
–          To give hair an immediate textured and defined look, use a powder.
–          If you want to encourage natural waves spray sea salt spray on damp hair and let dry. This works well for both short and mid length hairstyles. You can also combine it with some light curling cream.
–          Warmer weather can also bring a higher level of humidity that can cause hair to look frizzy or untidy.. Waxes are really good products to create a barrier against moisture in the air yet giving medium hold.
–          Advise clients to wear a baseball cap, teaming this with their hair being left out at the back for a low maintenance yet cool finish that will also keep their head and hair protected.
Rees Bryla, Fellowship Project Men Team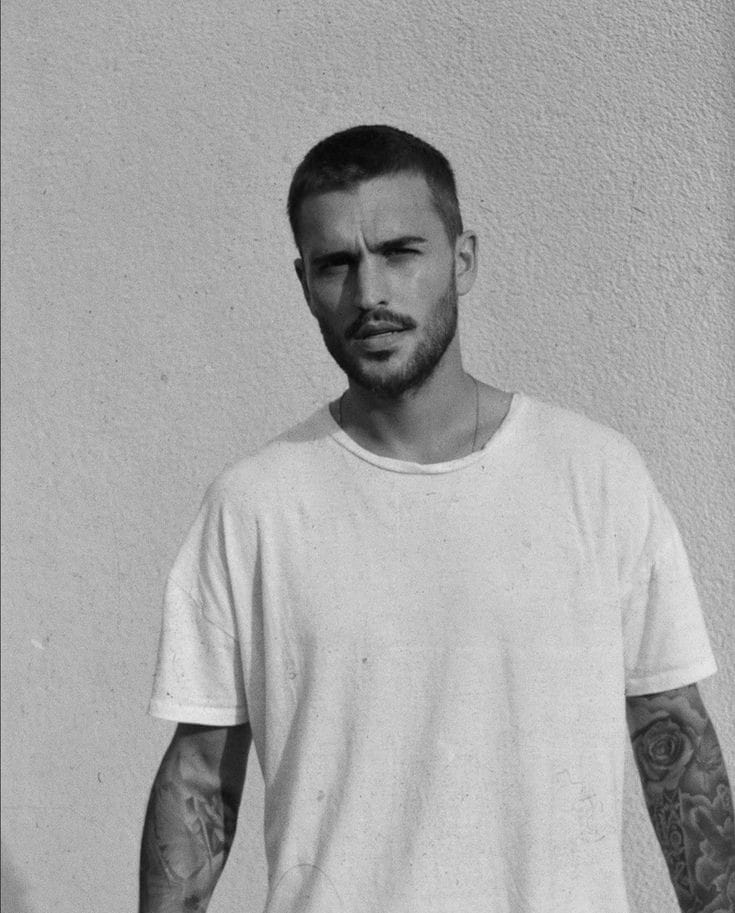 So as always in the summer the buzz cut comes back…nice and easy low maintenance! The French crop is also perfect for the summer season. Again, another fairly low maintenance style where you can use the hair's natural texture to create a messier look and finish it with a texturising dust for further volume. One of my favourite products to use when creating this style is the Davines This is a Texturizing Dust.