Offering free Wi-Fi to customers at the hairdressers or beauty salon is a great way to increase loyalty. However there are a few steps you must take so your Wi-Fi service provides a return on investment and is safe and secure.
Make your Wi-Fi easy to use – don't have complex codes or require people to create accounts
Brand your sign-on page with your logo and information, added a review button or loyalty scheme form, and encourage sharing on social media.
Choose a provider that offers a PCI, Data Protection and Digital Economy Act legally compliant service. Enable content filtering, to ensure all undesirable content is blocked.
Why Offer Free Wi-Fi at all?
Devicescape commissioned a survey conducted by iGR of 400 U.S. small businesses including coffee shops, clothing boutiques, book shops and salons.  The survey found that providing free WiFi for customers increases:
Foot traffic
Time spent on premises
The amount customers spend
Consumers tend to stay longer if they can use their tablets and phones via WiFi.  Of the businesses surveyed, almost 62 percent said that customers spent more time in their shop or facility once WiFi was introduced.
Around 50% said customers spent more money, too. If you do not offer Wi-Fi, you risk customers going elsewhere.
You are in good company too: Industry leaders, Toni & Guy introduced Wifi across their network of salons back in 2012.
Internet access is not just for the waiting area. Hair cutting capes are now available with a clear window so that customers can respond instantly to social media updates, texts and emails.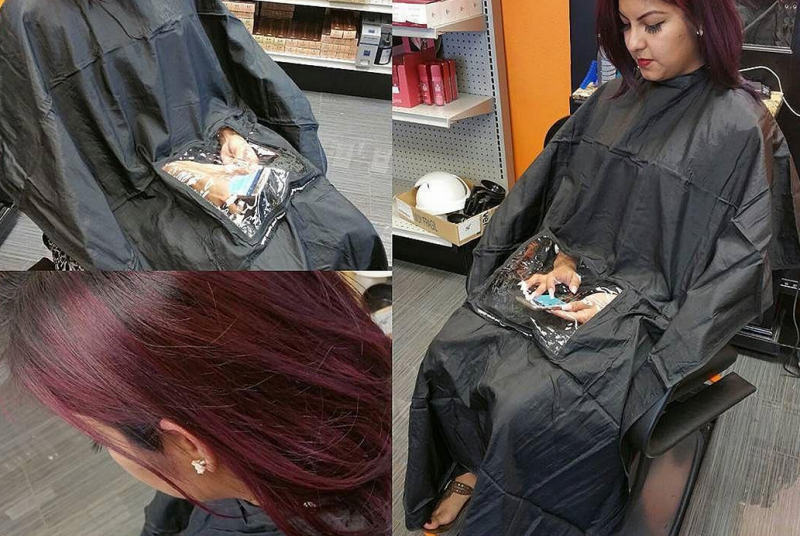 Customers will relax knowing they can text, email, or surf when getting their hair styled. And you will get a whole new way to connect with your customers.
As we know, it is very hard to live without our smart phones and ipads these days. Other than being great sources of entertainment, these smart gadgets are also essential to help us access emails and stay connected to our social media platforms. When we are offering complex services at salons, especially rebonding, colouring and perming, our customers are spending countless hours sitting in the chair, free WIFI can be a nice addition to hair salons; they can surf the internet all they want with their smart phones and ipads without worrying about data usage.
Free WIFI service is a good addition to hair salons, but of course quality of service, ambience level and skills of hairstylists are also important criteria that will generate loyalty from your customers.
Thanks to 2020Media.com for help with this article. You can find out more about Wi-Fi services for hairdressers and salons at https://wi-fi.london