It might be a glamorous industry worth billions of pounds per year to the economy but a shortage of trainee hairdressers in the capital has prompted a major recruitment offensive during National Apprenticeship Week (9-13 March).
Launched from the Coca-Cola London Eye, the London Hairdressing Apprenticeship Academy's campaign seeks to attract creative and entrepreneurial young people aged 16-23, who want a vocational career as an alternative to university or college study. Vacancies for more than 50 apprentices to join salons across London are already up for grabs, as business owners looking to expand struggle to find trainees.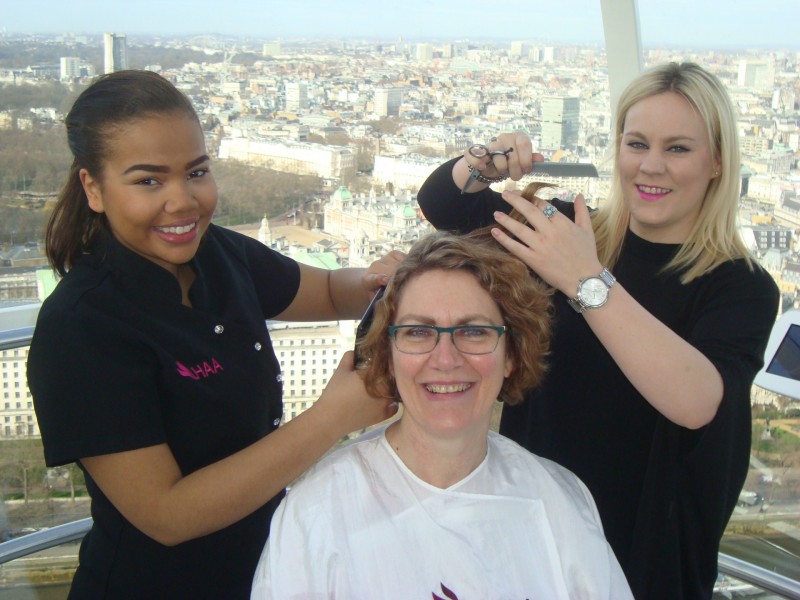 According to Trevor Luker, Co-founder and Director of LHAA, which trains apprentices for more than 350 salons across the capital, Hertfordshire and Essex from its three academies in Camden, Loughton and Borehamwood, a national qualification remains the best passport for entry into the sector:
"An apprenticeship is the hairdressing industry's preferred first step on the career ladder and apprentices can expect to earn while they learn and take home more than their contemporaries in other industries, once customer tips are added to wages. There's more to it than hair styling skills, as salon owners demand enthusiastic young people who can communicate well."
Continued Luker:
"The number of salons and barber shops is at risk of declining if the talent pool isn't replenished. The hairdressing industry employs over 1% of the total UK workforce and is respected internationally as the world's best but to maintain this status, it needs new recruits. Who will cut your hair if we don't get more apprentices?"
Hilary Hall, Chief Executive of the National Hairdresser's Federation said:
"Employers know that apprenticeships are the best route into the hairdressing industry, that's why hairdressing is always in the top ten most popular apprenticeship subjects. Top quality training with providers such as LHAA opens the door to a career in a lively, creative and very social industry, so we're delighted to celebrate National Apprenticeship Week."
Statistics from the Hair and Beauty Industry Authority (Habia) show that there are over 35,000 hair salons in the UK, employing over 200,000 people with 25% of those working in salons in London and the South East. Over 150 new salons opened in the last 18 months, with a key surge in retro fashion requiring expertise in crafting vintage cuts from the 1920s and 1950s.
To help boost uptake in vocational training, the Government's Apprenticeship Grant for Employers (AGE) has been extended in 2015 with a £3,000 cash incentive on offer to businesses with a London postcode that recruit an apprentice. Elsewhere in England, the employer grant amounts to £1500 per apprentice recruited.
For more information visit www.lhaa.co.uk