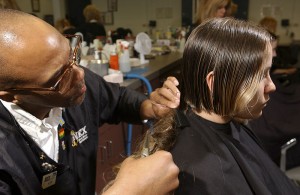 So are you a beginner or an experienced hair dresser? If you want to be the best  hairdresser you have to start somewhere and that means practice, practice, practice! All hairdressers now use hair models to cut, colour or  perhaps  learn a brand  new technique from their hairdresser tutor. Being a hairdresser is all about being creative so you can never stop learning and using hair models is the way forward.
Hair Models
You should always use a hair model as mistakes could happen when you have your real client in your hair salon as you don't want to disappoint them! Okay, so you going to use a hair model they could get disappointed but at least they know what they are going to expect from a student hair dresser.
I was once a hair model myself and I had my hair done at a salon and the student hair dresser gave me a double fringe even though the tutor  said it was a new look.
My top five tips to getting your perfect hair model:
  Post a display advert in your hair salon.
Post an advert on GumTree.
Offer students to get their hair done free or a good discount price by leaving an advert for hair modelling in a college or university.
Approach your particular hair model in the street  and ask if they would like to get thier hair done for free.
Last but not least ask your friends or family  if they would like to get their hair done by you =)
Good luck and if you've used a hair model or been a hair model, let us know your comments below.