Dylan Brittain, owner of Rainbow Room International's George Square Salon, Schwarzkopf UK Ambassador and International Artistic Director at Rainbow Room International reveals his top tips for creating the Mixie Haircut trend.
We noticed the rise of short and quirky cuts in 2021 including the mullet, the shag, cropped and pixie cuts. For 2022 we see two of these recent trends, the shag and the pixie, meet together to create the mixie cut, a style that features longer hair hitting the shoulders at the back and on top is cut super short as with a pixie, with shorter layers to give variations in length. Perfect for those who like to stand out from the crowd and have a serious 'cool girl' style, this haircut truly makes a statement and will ensure all eyes are on them.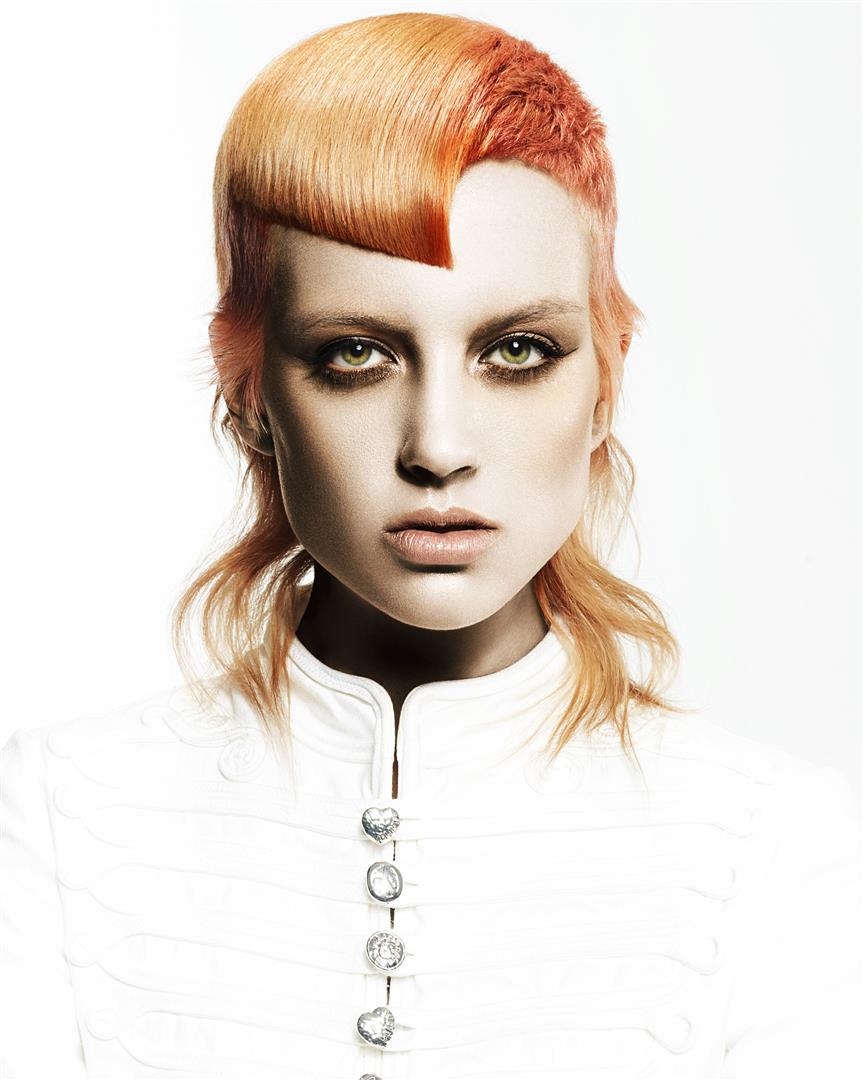 With being in lockdowns and surviving a pandemic, so many clients are starting to become more experimental with their looks and opting for creative cuts just like this. With being indoors a lot more, many of us are also in the habit of doing less with our hair and are looking for haircuts and styles that are effortless and require little to no styling. This haircut is ideal for those who are looking for something a little more low maintenance, as it looks great without the use of heated styling tools and instead by simply spritzing through a sea salt spray to give extra texture or by using a matte pomade/wax at the top into the pixie section of the cut to give texture and movement.
When it comes to creating this haircut on clients in the salon, stylists should talk to their clients about the best way to make this style work for them depending on their face shape. For those with more defined jaws, such as those with square face shapes, they may want to some length to the sides at the front to give their look softness. Contrastingly, those with more narrow face shapes may want to have their pixie cut shorter at the sides to add width and help balance out the face. A fringe can also look great when added to this haircut to give the finished style even more edge.
The great thing about this look is that it works well for most hair types and it's so versatile it can be adapted to suit the individual. Fine and thick hair types suit this look, however, it's a particularly fantastic haircut choice for those with fine hair, as it gives the appearance of thicker, fuller hair on the top. I also love this look with curly hair types, as by adding in some texturising spray this can really help enhance the curls and draw attention to them.
Before leaving the salon, stylists should provide their clients with tips to style the haircut at home. My favourite products for styling this look are matte pomades, waxes and gels. Mousses and texturising sprays like salt sprays are also great and can be scrunched into damp hair to add body and enhance the hair's texture. Texturising sprays can also be used on the finished look too for those who want to quickly style their hair and go in the mornings. We should also as always recommend that our clients use good quality hair care such as conditioning shampoos and conditioners and hair masks at home to keep their haircut looking its best in between appointments and free from split ends. A serum or oil is another great product to suggest to clients to apply into their damp or dry hair to keep split ends at bay and their hair free from damage and frizz.