It was a bittersweet moment when I saw my hairdressing salon had announced on social media that they were re-opening.  I was rejoicing that my out of control mane would finally be tamed after months of lockdown growth, however when I saw their new list of regulations my heart sank.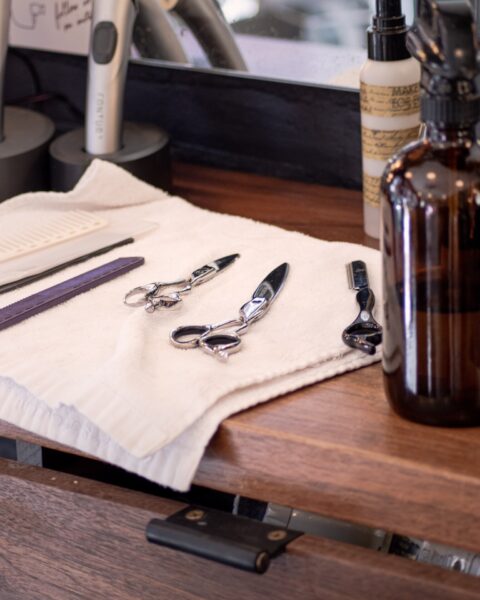 Their new trading conditions are absolutely right given the circumstances we're in and it seems they have thought of everything to protect our safety as well as their own which buys us all a huge amount of confidence, not only to be able to visit their premises but for them to conduct their work in a careful manner.  I started to think about the gestures and small things that they'd done in the past that I'd taken for granted and that I know I'll be missing in the future.
For example, my husband goes to a local barber (changes each time), the clippers are set to number 2 and his hair is shorn to a millimetre's length.  He and the barber may exchange a few words about Aston Villa's fixture list or England's chances of winning the Ashes but that's it and the 10-minute slot is over, no frills.  But that express method is not for me, (and nor is it for most ladies), the experience you receive at the hairdressers must be as important as the haircut itself.
I used to go to a salon where it was a lottery what mood my stylist would be in.  She'd say – "when people come here, they want a ride on the fun train and I can't always give that".  That's when I knew it was time to move salons.  At the end of the day when I go to the salon, I want a ride on the fun train and what's more, I want a first-class ticket!
I felt my prayers had been answered
So, when I was recommended James Bushell Salon in Solihull, I felt my prayers had been answered.  From day one, I was made to feel so welcome.  The banter is free flowing as is the wine from the fridge and over the years I've built up a rapport and salon-based friendship with everyone there, our conversation has moved away from the predictability of "where you are you going on holiday?" or "are you ready for Christmas?" to where we talk about everything and it is like going to visit old friends.  It's uplifting.
So, you see, as mentioned before, the experience is just as vital as the haircut itself.  So many people use that time in the stylist's chair, as time out from the demands of daily life and don't just treat their visit as a functional errand of maintaining one's hair, they want to make it count, to feel special for that hour or so.
Having the continuity of staying loyal to my salon has its benefits and that my Stylist Andy and Colour Technician Jamie, know my hair strand by strand, wave by wave, what suits me and they offer the emotional support I need when my greys show through and the realisation of getting old is visible, they sort it out and make it go away.
I know everything will be so different when I go in next.  No sitting on the plush velvet sofas in the waiting area, no perusal of the latest magazines, no cappuccinos, no bearhugs and cheek kiss greetings. It'll be about learning to adapt to a new routine and how we manage the boundaries we've been told to observe.  But that's okay.  Aside from all the new rules in place, I believe that the spirit and soul of the salon won't have changed, and the camaraderie will still be in the heart of the team.  Things like social interaction and making people feel good can shine through any screen or filter put in its way and if you find it at your salon, then you know you've found yourself a good hairdresser.  I know I have.
---
Our thanks to: Anna Rose
UK Award Nominated Blogger & Published Writer
@wordinvegways
www.wordinvegways.blogspot.com
~~
James Bushell Salons are located in Solihull, Sutton Coldfield, Edgbaston and Harvey Nichols Birmingham.