With Halloween approaching, there's no better time for clients to switch up their look – whether they're embracing a character or just wanting a change for the season, OSMO has the answer with its semi-permanent Color Psycho Collection. OSMO Ambassador Jes McMahon loves a bright colour and regularly shares her incredible, creative client transformations at her Salon Son of a Bleach
"Halloween provides the perfect opportunity for your clients to change up their look and embrace colour. Orange, Red and Copper hues are the perfect Halloween and Autumn tones, and the OSMO Color Psycho (£8.95 each) collection is available in 14 shades to help your clients colourful alter ego. The semi-permanent colours can last up to six weeks plus the ready to use formula is ammonia and peroxide free. It'll even condition your client's hair as the vibrant colour is deposited. So, choose the colour, apply to pre-lightened / bleached hair and leave for 15 – 30 minutes before rinsing thoroughly and voila, hair is ready to go," explains Jes.
There are 14 shades of OSMO Color Psycho available:
Wild Blue | Wild Cerise | Wild Claret | Wild Cobalt | Wild Fuchsia | Wild Green | Wild Orange | Wild Pink | Wild Purple| Wild Rouge| Wild Silver | Wild Teal | Wild Yellow |Wild Violet |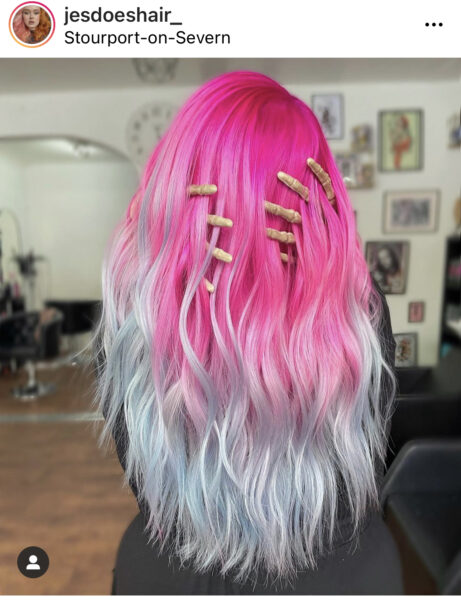 "If you've nervous clients about going for a full colour change – then ensure you're taking time to talk aftercare during your consultation.  Colour will need products to maintain the vibrancy, so I always recommend that clients use the NEW OSMO X.Posed Treatment Mask (£9.99) between their visits as it is an intensely hydrating treatment mask designed to help repair and restore the hair to optimum condition." OSMO Ambassador Jes McMahon from Son of a Bleach salon, Stourport.
To buy OSMO for your salon or kit bag, visit www.osmo.uk.com for your nearest wholesaler