Braids are a trend that will never go out of fashion. No matter what the season, whether it's the summer time when everyone loves a summer braid and an easy hairstyle to get their hair off their face in the warmer weather, or winter, when we clients are looking for hairstyles that will keep frizz and flyaways at bay and their hair protected from the hash cold weather. However, now is the time to experiment with our braids and incorporate them into different hair looks such as ponytails and buns for a more contemporary braid look with added quirkiness.
Sabrina Dijkman from ALTERNA Europe reveals her top braided hairstyle for 2021 and how to create them.
Below are two of my current favourite braided ponytail looks, how to create them and the best styling products from ALTERNA Europe to help create a picture perfect braided look.
Boho Braided Ponytail
The boho braided ponytail – I love how this look is so quick and simple to create and the results are effortless but chic. This hairstyle is perfect for clients who are looking for a soft, romantic style for weddings or special events, or who want something a bit different from the classic bouncy blow-dry and beachy waves.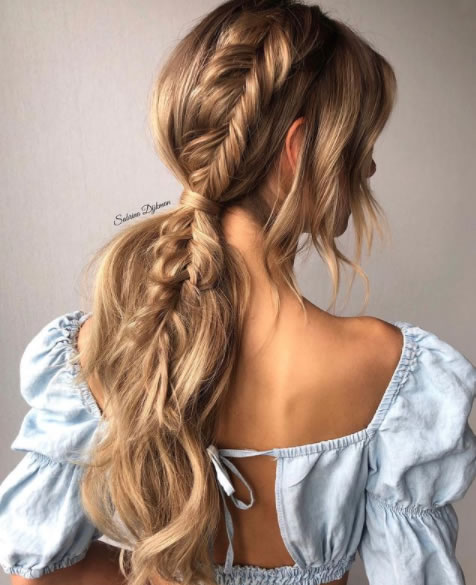 To create the style, firstly start by applying some Caviar Anti Aging Replenishing Moisture Leave-In Smoothing Gelee to the hair. This will not only give the hair moisture and shine before styling but it will also help define and perfect the braid in the look. Once distributed throughout the hair, take a thick section of the hair on the right hand side and start creating your braid. For this look I used a regular three strand but I finished braiding, I gently pulled out areas of the braid to provide thickness and a softer finish. I then applied more Leave-In Smoothing Gelee before adding the braid to a ponytail and securing with a hair tie. I wrapped a section of the ponytail hair around the hair tie to give the hairstyle a more sophisticated finish and then used some of the Gelee in my fingers and distributed this throughout the ponytail to enhance its texture and body.
Fishtail Ponytail
The fishtail ponytail – for tclients who want something a bit different from the regular three style braid, the fishtail is a great choice and one of my favourites for giving the hair the appearance of thickness and texture. An easy and one of my favourite techniques to create this style is using an elastic.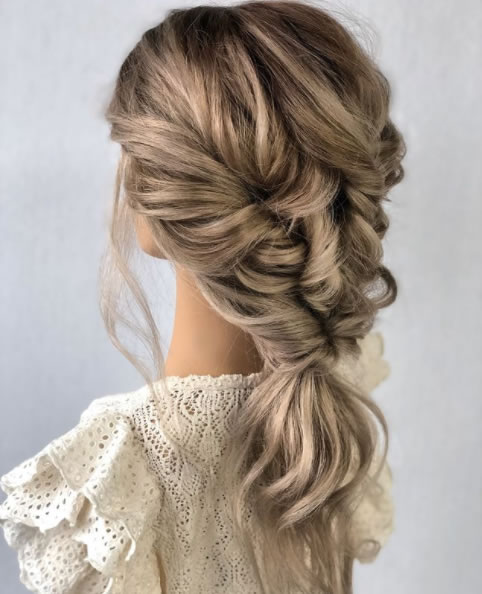 Firstly, I blow-dry the hair with My Hair. My Canvas. Any Way Texture Spray at the roots to give control and volume and then use the My Hair. My Canvas. Soaring High Volumising Blowout Mist in the ends for volume and heat protection, as well as a lot of shine. I then like to use heated styling irons to create some soft curls within the hair before creating my braid for added movement. I always use the Caviar Styling Rapid Blowout Balm prior to curling to help protect the hair from heat and breakage. Then, I take a section three sections from the top of the head, still leaving hair underneath, and divide this into three ponytails, one on the left hand side of the head, one on the right and one in the middle and secure with elastics. Then the fun part starts! I create a whole in the top of the middle ponytail and then I take the ponytail through and make a twist and pull this out a little bit for a relaxed finish. I then take a whole from the right hand side and pull the ponytail through again. Each time you should slide the elastic down and create a new hole on the right hand side. Repeat the same technique with your left and right hand side ponytails and then join the braids into a ponytail and securing with an elastic before spritzing with Caviar Perfect Texture Spray for a further texture. My Hair. My Canvas. City Slay Shielding Hairspray can also be used to control any frizz and flyaways and keep this hair look in place all day long!
Image Credits: Instagram @sabrinadijkman