Suzie Mcgill, Director of Rainbow Room International's Uddingston Salon, Schwarzkopf UK Ambassador and International Artistic Director at Rainbow Room International brings a ton of exciting ideas for combating Blue Monday
With it being Blue Monday (which is said to be one of the most depressing days of the year) we try to lift spirits with some gorgeous blue hair transformation from the team at Rainbow Room International…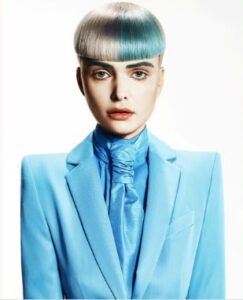 Pastel blue tones are the perfect shade for winter. Cool in appearance, these hues give a gorgeous shine to the hair and fade out beautifully. These shades are great for blondes who want to add some colour to their look and look particularly beautiful when paired with ice white and grey tones for a super on trend and edgy look for the season.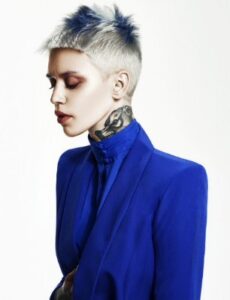 Shades of midnight blue are a fantastic choice for clients who want to make a statement and stand out from the crowd. However, they also look incredible worn in flashes through the hair to give the style a funky look. The beauty of this shade is that it also looks beautiful placed on top of brunette hair, giving it a subtle tint of colour and mega shine.
Sky blue tones are definitely not for the faint hearted and are one of the most vibrant blue hair colours. These shades look particularly flattering on cooler skin tones and are incredibly fun and stylish whether worn all over the hair, in highlights or through colour flashes or panels.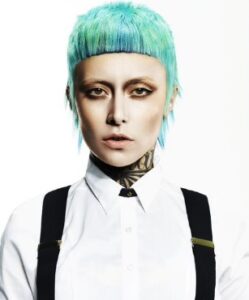 For clients looking for a more unique and out with the ordinary blue hair shade, this turquoise tone is an excellent choice. It's a very dramatic colour and will liven up any hair look. The beauty of this tone is that it suits all skin tones, light, dark, cool or warm and looks incredibly flattering. I love teaming this colour with a cropped cut or pixie style for a super head turning look.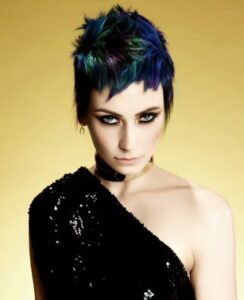 A multi-dimensional blue hair look, this is a great choice for those who like to be creative with their hair. Mixing different shades of blue can help great dimension and depth in the hair and can provide a super cool, almost futuristic and galaxy inspired hue.
With all blue hair tones, informing your client of at home hair care maintenance is key to ensure their blue remains vibrant and that the colour is long-lasting. My top hair product picks for blue hair colour are:
1.        A colour depositing or colour saving shampoo – a must to keep the colour looking its best in between appointments and to avoid the colour from fading. Schwarzkopf has some great options including their Schwarzkopf ColorWash Blue Wash Shampoo and Schwarzkopf Professional BC Bonacure pH 4.5 Colour Freeze Rich Micellar Shampoo.
2.        A hair mask – there's nothing worse than a beautiful colour looking dull and damaged. A hair mask will avoid this from happening and will help to keep colour sealed in and the hair looking healthy and with mega shine. If the client has undergone a big hair transformation to get their blue hair colour good quality hair treatments and masks are a must to help repair any damage and keep the hair free from further damage and split ends. The Schwarzkopf BC Bonacure pH 4.5 Color Freeze Treatment is one of my favourites.
3.        A hair serum or shine spray – the perfect products to use on blue hair after styling. These products will help to give the hair colour added radiance that looks beautiful with these tones. I particularly love the the Schwarzkopf Professional OSiS+ Magic Anti-Frizz Shine Serum and OSiS+ Sparkler Shine Spray.