Sponsored Video
When you leave a salon after a great haircut, you can feel on top of the world. But salons want you to feel that way from the moment you walk in so now some are offering a everything from Twinings tea to a glass of Pinot Grigio with your haircut or a back massage with your shampoo.
At the Hair Lounge in Georgetown, clients are treated to a glass of wine with their cut. "I think the client deserves much more than water," says owner Serkan Sut. Customers can choose among Pinot Grigio, Chardonnay, and Merlot. The salon goes through white wine faster, but Sut says he notices a subtle divide: Women getting haircuts opt for white; coloring clients choose red.
Does a glass of wine lead to a longer appointment? It can, Sut says. While a women's haircut at some salons can take a half hour to 45 minutes, cuts at the Hair Lounge can last 45 minutes to an hour. And the salon gets busier after 4 pm. "People come, get a glass of wine and a cut, and relax after work," Sut says.
"Clients love it," says DC's Roche Salon co-owner Dennis Roche. "They fall asleep in the chair a lot." Do relaxed clients buy more services? Probably not, Roche says. "But it certainly brings them back."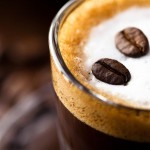 At Nicky Clarke Mayfair, An extensive in-salon menu offering a variety of cold drinks, delightful teas and infusions, freshly ground coffees, and delicious hot and cold foods tempts the clients to relax and enjoy their salon experience.
Clients of BeautyWorksWest, Notting Hill comment "The salon is relaxed and provide plenty of drinks and lovely brownies to boot!", "Slick interior with art works and free drinks add a nice touch."
RUSH Moorgate have a wide menu of drinks on offer accompanied by nibbles, from the usual tea and coffee to wine, beer and fruit juices. This makes the experience immediately different from other places, which often only offer tea or coffee – or, in some cases, nothing.
It seems clear – offering a choice of drinks and nibbles to your clients is a must. Your only choice: To charge or not to charge?