It was all about the tan this year at Professional Beauty London 2013. Everywhere you looked there spray guns and UV lights. There was fake tan, spray tan, self tan and pro tan. And even a tanning drink – yes really: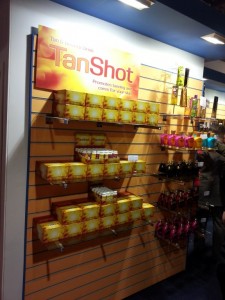 There was so much orange about I thought I'd wandered into Geri Halliwell's hairbrush! Actually of course the word orange is verbotten. We can only talk about golden, sun-kissed, olive etc. Except when in Essex, natch…
To prove the point, the show hosted a Guiness World Record attempt in simultaneous spray tans with celebrity spray tanner Amy Childs. The event also raised money for  charity wellbeingofwomen.org.uk
Our top find from last year's show were back in force, Sleep In Rollers, and they looked ready to sell sell sell!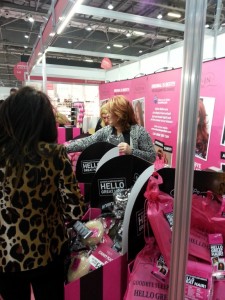 The show also featured dozens of the leading beauty and salon brands and looked bigger and better than ever before.
Upcoming shows are dotted around the country so if you have a few hours to spare, or a day out, we highly recommend going along.