milk_shake ambassador and celebrity stylist Neville Ramsay got Editor-in-Chief of American Vogue and Artistic Director of Condé Nast, Anna Wintour ready for her appearance with Katharine Viner, editor-in-chief of The Guardian News & Media, in collaboration with The Northern Youth Fashion Show in Aid of Refugee Crisis on January 29.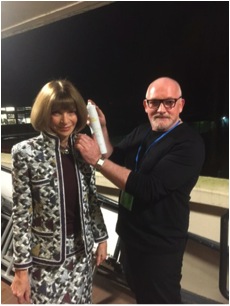 The sold-out show at the University of York's Central Hall showcased the work of some of the best student designers in the North, while Anna Wintour gave a rare Q&A about her career.
"It's fantastic to be involved with a show like this," said Neville. "The North often gets overlooked, when really it's home to some amazing talent. This fashion show really helps to put the North on the map and show that the future talent of the fashion industry isn't limited to London.
"Everybody talks about Anna's slick, voluminous bob – her iconic identity along with her sunglasses.  It's the pinnacle moment in my career to have worked with Anna Wintour –  she was fabulous."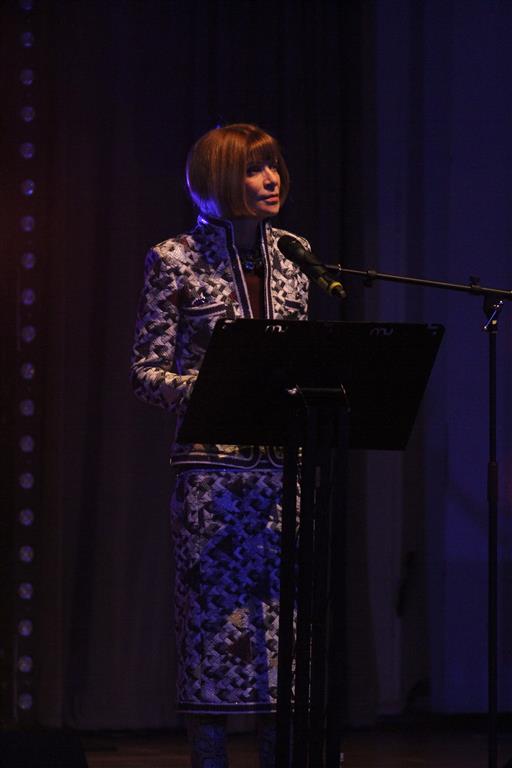 Neville created Anna's volume and slickness using milk_shake products:
"Spritz a little milk_shake Leave-in Conditioner onto damp hair. Zig-zag sections through the nape area up to the crown applying a small amount of milk_shake Volumising Solution to the root area to create the volume, then apply milk_shake Sparkling Glaze to the mid-lengths and ends.  We finished with Open Air Hairspray to hold & a spritz of Glistening Spray to ensure that polished finish."
Neville also led the hair team to create the models' catwalk looks, which took inspiration from youth movements and the photography of Hedi Slimane where he catches fugitive glimpses of nightlife; sweaty kids together in the club or making music. The models were styled with an androgynous, sweaty look to give a vibe of energy and excitement. Neville's hero product for this look was milk_shake's Glistening Spray, with Neville saying, "We had lots of naturally curly hair to work with so we spritzed through with this incredibly nourishing product, which leaves hair super shiny as though it's soaking wet but still looks gorgeous and also eliminates frizz."
Live performances came from North Yorkshire folk singer Bille Marten, and Friendly Fires and Metronomy, who collaborated for the first time for the show. Proceeds from the event will be split between Refugee Action York, which helps to integrate refugees into the local area, and the Xavier Project, which delivers mentoring schemes, offers job opportunities and runs schools for refugees across the world. "We were delighted to have Neville and milk_shake on board to help us with the show," said Ellie Wintour, one of the organisers of the Northern Youth Fashion Show. "As well as giving northern talent a platform to showcase their work, we're working to help some really good causes so it's been great to see so many businesses getting involved with the event."