Akin Konizi was named 2011 British Hairdresser of the Year in a glittering awards ceremony this week.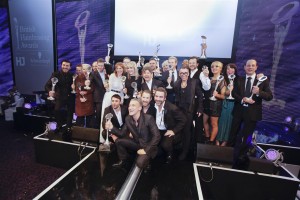 Akin Konizi joins the elite few, as over the past 27 years there have only been 15 hairdressers who have been awarded this title, the greatest accolade in hairdressing. The 15 winners are – Trevor Sorbie, Anthony Mascolo, Irvine and Rita Rusk, John Frieda, Andrew Collinge, Nicky Clarke, Charles Worthington, Umberto Giannini, Beverly C, Mark Hill, Antoinette Beenders, Lisa Shepherd, Andrew Barton and Angelo Seminara.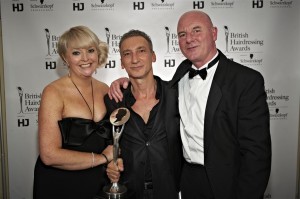 The newly crowned British Hairdresser of the Year, Akin was ecstatic when he won the coveted title. "I couldn't believe it when my name was called out, I was overwhelmed and delighted – winning the title is a dream come true," said Akin. Hosted by Jonathan Ross with entertainment provided by chart topping Aloe Blacc, guests from the world of hairdressing, fashion and media mingled at the prestigious event at the Grosvenor House Hotel in Park Lane, London.
There are nine regional categories covering all areas of the UK and six specialist categories that recognise the skills required in specific areas, including – Afro, Men's, Newcomer, Artistic Team, Avant Garde Hairdresser of the Year, and the Schwarzkopf Professional British Colour Technician of the Year. Hairdressers from any salon in the UK can enter the awards and compete with the biggest names in the industry as the anonymous and independent judging process ensures complete fairness for all.
Unlike other awards, the British Hairdressing Awards are based on photographic entries that demonstrate the skills and talents of the entrant. All entries are judged by a distinguished, yet extensive panel of credible individuals, and the results collated by an independent firm of auditors.
"The standard of entries in all categories this year was incredible and the judges had a really difficult job. Congratulations to all the finalists and winners, who truly are the best of British."  said Publisher/Editor-in-Chief of Hairdressers Journal International, Jayne Lewis-Orr.
The Winners of the 2011 British Hairdressing Awards
HJ's British Hairdresser of the Year 2011 – Akin Konizi, HOB Salons
Avant Garde Hairdresser of the Year – Indira Schauwecker, Toni & Guy, London
Men's Hairdresser of the Year – Jamie Stevens, Errol Douglas Salon, London
Afro Hairdresser of the Year – Junior Green, Junior Green Hair and Beauty, London
Artistic Team of the Year – HOB Salons
Newcomer of the Year – Jasmine Redstone, RUSH Hair, Croydon
Schwarzkopf Professional British Colour Technician of the Year – Christel Lundqvist, HOB Salons, London
London Hairdresser of the Year – Richard Mannah, Toni & Guy
Southern Hairdresser of the Year – Bruno Marc Giamattei, Marc Antoni, Henley-on-Thames
Eastern Hairdresser of the Year – Terri Kay, Mark Leeson Hair Body & Mind, Mansfield
Midlands Hairdresser of the Year – Sean Tetlow, The Colour Room, Stockport
North Eastern Hairdresser of the Year – Julian Holland, The Mark Hill Salon, Kirk Ella
North Western Hairdresser of the Year – Marcello Moccia, Room 97 Creative Hairdressing, Wakefield
Wales & South West Hairdresser of the Year – Ken Picton, Ken Picton, Cardiff Bay
Scottish Hairdresser of the Year – Suzie McGill, Rainbow Room International, Uddingston
Northern Ireland Hairdresser of the Year – Kevin Kahan, Kevin Kahan, Bangor
Congratulations to all the winners from Hairdressing.co.uk